A Monteverde Shining Star. Monteverde Cloud Forest Biological Reserve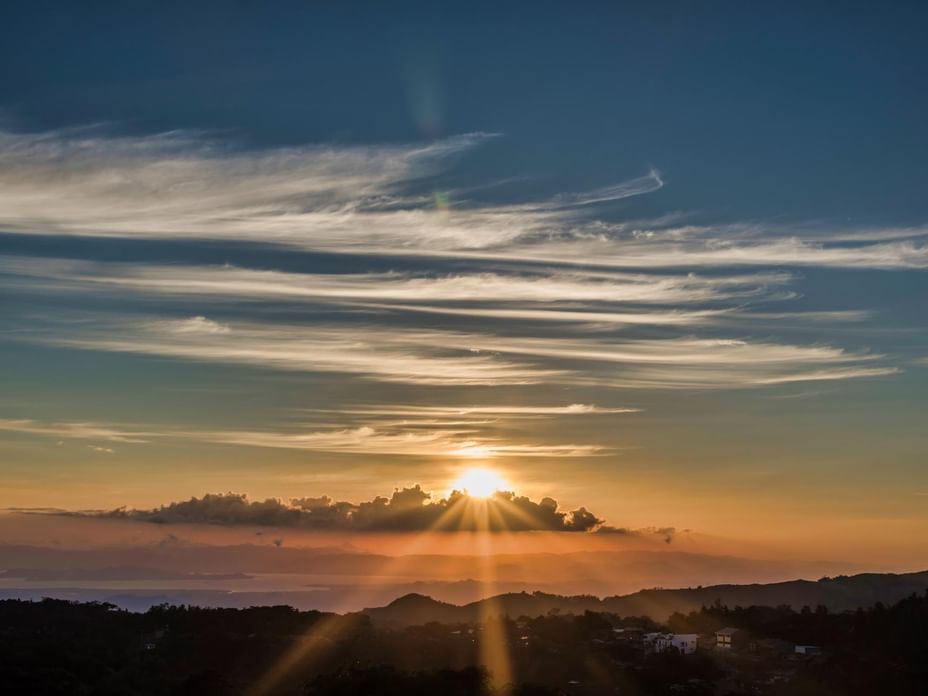 Monteverde is a world-renowned destination for several reasons. This small mountaintop sanctuary has a variety of medals to its name that attract visitors from all over the world. However, this beautiful green haven never disappoints either, quite the contrary! It exceeds expectations. One of Monteverde's shining stars is the Monteverde Cloud Forest Biological Reserve. Let´s explore its trails and learn about this success story.
Ficus Sunset Suites is another Monteverde success story! This modern hotel with just 20 deluxe rooms is conveniently located near the best attractions in Monteverde, including the Monteverde Cloud Forest Biological Reserve. While the Reserve is focused on providing an unforgettable experience in the magical cloud forest, Ficus Hotel is dedicated to providing the most comfortable and welcoming stay in Monteverde.
Did you know that a cloud forest is characterized by nearly 100% humidity throughout the year? Before we begin to explore the Monteverde Cloud Forest Biological Reserve, let´s understand what these mystical and magical forests are!
What is a cloud forest?
Tropical montane cloud forests or Cloud Forests thrive in tropical mountainous regions with consistent cloud cover. However, they make up just 1% of the world´s forests, and Monteverde is one place where you can live the cloud forest experience thanks to the conservation efforts of Monteverde and the science community.
With their unique characteristics, cloud forests live between 3000 and 10000 feet above sea level. They are also dependent on the following:
Local climatic conditions
Distance from the ocean
Elevation
Latitude coordinates
Heavy rainfall
Persistent condensation
Their characteristics include a persistent low-lying layer of mist and cloud which means they receive low direct sunlight. In addition, their trees have crooked tree trunks with twisted branches, creating the perfect environment for epiphytic plants, including orchids and bromeliads.
The Cloud Forest Biological Preserve History: How did it begin
The Monteverde Cloud Forest Biological Reserve was created in 1972 by a group of visionary scientists from the Tropical Science Center (TSC) and Quakers from the local community to protect one of the last tracts of pristine Cloud Forest in Central America. This coalition created what has become a pioneer in biodiversity research and education—conservation under the ecotourism model.
The Tropical Science Center, the first Costa Rican non-government environmental organization, runs the reserve. Established in 1962, it has pioneered conservation efforts, research, ecotourism, and sustainable development initiatives in Costa Rica. The Monteverde Reserve is part of TSC's private reserves and biological corridors network.
The Monteverde Reserve is one of several private reserves and biological corridors that the Tropical Science Center runs and owns. It is Costa Rica´s first non-government environmental organization. The Monteverde Cloud Forest Biological Preserve is a success story of how sustainable development initiatives are done the right way, benefiting the environment, the community, and the local economy.
What can you do while there?
Monteverde Cloud Forest Biological Reserve was designed and created so its visitors can thoroughly enjoy and experience the beauty of the cloud forest and the reserve. There are many trails throughout the reserve to create a combined distance of several kilometers, including the iconic hanging bridge, a waterfall, strategic viewing points, and an observation deck with views of either side of the continental divide.
While exploring the well-maintained trails, keep your camera and binoculars handy and ready to use. The Monteverde cloud forest is said to be home to 50% of Costa Rica´s biodiversity, which translates to 2.5% of the world´s biodiversity. According to the Monteverde Cloud Forest Biological Reserve, more than 3200 plant species have been found in Monteverde alone.
When it comes to birds and animals, here are some impressive numbers:
425 species of birds
120 species of mammals
60 species of amphibians
101 species of reptiles
658 species of butterflies
100 species of dragonflies and damselflies
Countless insects, fungi, and microorganisms are still yet to be studied.
What should I bring?
A visit to the Monteverde Cloud Forest Biological Reserve will be literally a walk in the clouds! So, come ready for some fantastic trail walks immersed in the cloud forest. With so many photo opportunities of the bird, wildlife, and flora, bring your camera and binoculars to take those Nat Geo photos!
Clouds can bring rain, and the cloud forest thrives in the rain. Therefore, it is more than recommended to bring raincoats, closed, water-proof shoes, a hat, quick-dry long pants, and a shirt. This means your walk through the clouds will be as comfortable as possible, and you can focus on the wildlife watching.
Remember that bringing single-use plastic into natural areas in Costa Rica is prohibited. This means you cannot enter the Reserve with plastic water bottles, plastic bags, or any other type of plastic containers into the reserve. Please bring a non-plastic water bottle.
General Information
Ficus Lodge can assist you with all the questions and doubts you may have about the Monteverde Cloud Forest Biological Reserve, including transport, directions, and other tips. Here is some general information to begin the planning process to visit.
Opening Times: 7 am to 4 pm every day
Ticket Purchase: You can purchase the entrance fee on the website or directly at the ticket office on the day of your visit. You can pay with US dollars of Costa Rican colons or with your credit card.
Other services: A restaurant, souvenir store, educational programs
Ficus Monteverde Hotel looks forward to being part of your Monteverde Cloud Forest experience during your stay. With its sustainable tourism-focused business model, Ficus is part of the Selvatura Group, one of Monteverde´s best tourism groups with its sister properties and Selvatura Adventure Park. We invite you to take part in the various conservation programs that focus on the continued health and growth of the Monteverde Cloud Forest for future generations to enjoy. See you in the clouds!