Why Costa Rica is the best birdwatching hotspot!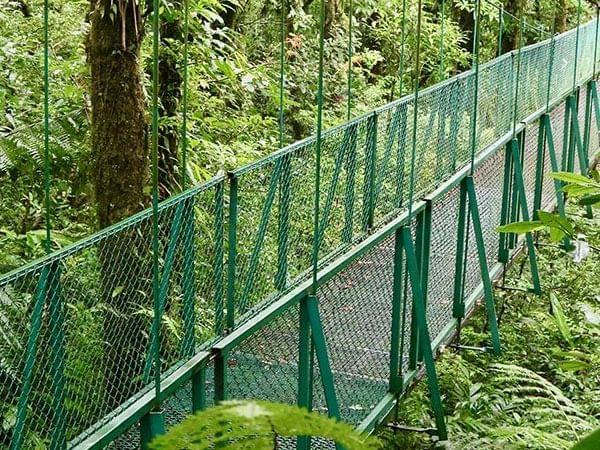 Did you know that Costa Rica is considered a top ecotourism destination and is one of the top 3 favorites in Latin America for birdwatchers?
Welcome to Costa Rica, one of the best places in the world for birdwatchers and bird enthusiasts! This small country is a birding hotspot where a myriad of endemic and migratory birds can be observed and enjoyed up close or afar. Let's explore this bird-loving region and understand why Costa Rica is the best birdwatching hotspot.
Costa Rica also offers ideal conditions for birdwatching tourism. This includes naturalist and ornithology specialized guides that love to take fellow bird lovers to the best spots in Costa Rica for tours. Selvatura Adventure Park in Monteverde has a group of professional in-house naturalist guides that will show you the very best of the cloud forest with their eagle-eye bird spotting capacities!
Why Costa Rica for birdwatching?
Costa Rica has been on the world map as a top birdwatching destination for many years and there are very good reasons for this hotspot ranking. Over 900 species of birds have been registered in this small little country that sits in the middle of North and South America.
So, not only are there lots of birds to spot, but they are also flying around a small area of land which heightens chances that you will see many of these hundreds of feathered friends during your travels around Costa Rica.
There are some birdwatching hotspots that are conveniently located close to the two international airports too, including Monteverde that sits basically between the two. This means you won't have to travel far to enter this mountain-top world of forests, clouds, adventure, and birds galore, whether you fly into San Jose International Airport or the Guanacaste International Airport.
Why are there so many bird species in Costa Rica
One of the reasons that Costa Rica is so beautiful is that it has embraced diversity in a very big way. It begins with its privileged location in the world and that it has mountains, lowlands, wetlands, volcanoes, beaches, rainforests, cloud forests, mangroves, rivers, and so many more beautiful landscapes. This means that many bird species have found their home in the endless types of forests, altitudes, coasts, and other hideaways.
It also is the perfect itinerary stop-over for birds as they move north and south along their yearly migratory routes. These are the true jet setters of the world and Costa Rica is their temporary nest on their long seasonal journey to the warmth and diversity of Costa Rica.
Where are the top bird watching places in Costa Rica?
Costa Rica has birdwatching epicenters all over the country so during your visit and depending on your love for birds, you can stop at a number as you discover the wonders of this top bird watching destination. For bird lovers, you can never see enough of them, and Costa Rica guarantees endless opportunities to enjoy all stages of your favorite activity.
From the search through the forest, the mountainside, the wetlands, or the cloud forest, to identifying their song amongst the symphony of sounds of nature, and the joy of spotting and observing a known or a new species is all part of the adventure.
High Altitude Birdwatching hotspots include: Monteverde Cloud Forest, Santa Maria de Dota, and the Central Valley.
Low Altitude Birdwatching hotspots include Carara National Park, La Selva Biological Station, Osa Peninsula, and Caño Negro National Wildlife Refuge.
Which is our favorite?
While Costa Rica is beautiful everywhere you go, from the palm tree-lined beaches for relaxing to the active volcanoes with adventure-laden slopes, there is always a favorite. Our preferred destination for bird watching, to experience a sense of mystic and magical beauty immersed in nature, great hotels, delicious restaurants, and the thrill of adventure is Monteverde!
This unique destination sits on the top of the continental divide and literally and appropriately means "Green Mountain". It is home to the magic of the cloud forest that is protected in a network of nature reserves including the Selvatura Adventure Park where you can experience the cloud forest from the thrill of a zipline through the cloud forest canopy or on the treetop suspension bridges with bird's eye views of the forest and its dwellers.
The Monteverde cloud forest is the perfect backdrop for birding tours or just the pleasure of watching birds and hearing their song from the comfort of your hotel nestled into the mountain slopes like the Ficus Sunset Suites, Hotel Heliconia, or the Jaguarundi Lodge or as you explore the cloud forest on foot or from above.
With over 400 bird species, 160 species of amphibians and reptiles and 100 species of mammals, Monteverde´s unique ecosystem compares to no other. It also is a favorite for bird species like the resplendent quetzal, the three-wattled bellbird, the bare-necked wood quail, and the azure-hooded jay just to name a few.
Bring your hiking boots, binoculars, camera, and your sense of adventure when you visit Monteverde. Selvatura Adventure Park will show you how to enjoy the cloud forest from a whole new perspective when you explore the nature reserve.