Savor the exquisite flavors of the authentic local cuisine
Enjoy a delightful dinner at our restaurant in Monteverde
---
In addition to our onsite Fig Restaurant, the Ficus Sunset Suites is surrounded by a vibrant culinary scene, with an array of restaurants and bars near our hotel in both Monteverde and the town of Santa Elena. Indulge in a delightful gastronomic adventure as you explore the diverse flavors of Costa Rica. From charming local eateries serving traditional Costa Rican cuisine to international restaurants offering a global culinary experience, there is something to satisfy every palate. Enjoy fresh and flavorful dishes made with locally sourced ingredients, accompanied by a selection of fine wines and craft cocktails. After a day of exploring the wonders of Monteverde, unwind at one of the nearby bars, where you can sip on expertly crafted beverages and mingle with fellow travelers.
Immerse yourself in a culinary experience like no other at The Fig Restaurant, where sumptuous breakfasts and relaxed dinners are complemented by the backdrop of panoramic views over the Gulf of Nicoya and the charming town of Santa Elena in the distance.
Schedule:
Breakfast 6:30 am to 9:00 pm
Happy Hour and Dinning 4:00 pm to 9:30 pm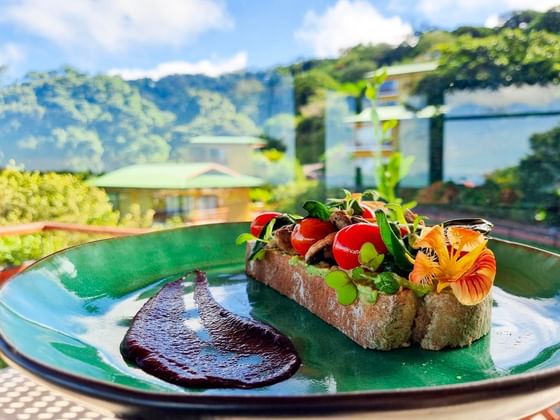 Cuisine
Embark on a culinary journey with our exquisite fusion menu, designed for elegant dinners filled with profound conversations, where each dish is crafted to perfection, ensuring an unforgettable dining experience.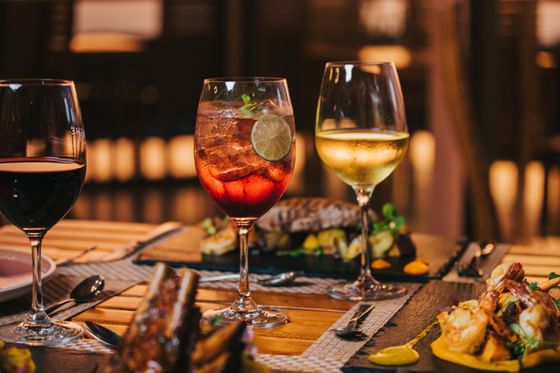 Cocktails
As night falls, our ambiance transforms into an inviting casual setting, where our esteemed guests revel in the magic of our enchanting happy hour. Indulge in the mesmerizing views of some of the world's most spectacular sunsets while delighting in trendy cocktails and an enticing selection of beverages.